Contractors' Duct Cleaning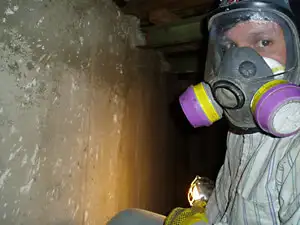 We are often called in by contractors when there are dust problems. We keep the customers happy so there are no problems that come back to the contractors. We go to great lengths to keep our contractors' customers happy. We work with numerous contractors in Los Angeles and surrounding areas, doing work as Professional Duct Cleaning or sub-contracting as your company. Also, if we find something while working a job you referred us that is work you do, we recommend the customer right back to you. You do not lose business, you gain future business and word-of-mouth advertising from our job well done!
We work with the customers to schedule our work around their active times whenever possible. In emergencies, we get there FAST.
One of our main clients is the LA Unified School District; they use Professional Duct Cleaning Company because the school district has very tough inspectors and requires the highest quality duct cleaning work.
We make sure all vents are cleaned completely and thoroughly. We have five separate crews that can converge on one large job to finish it quickly and thoroughly.
Our technicians take apart the vents, clean the fans and registers, and everything else that can be accessed. Ducts sometimes make turns that make it very difficult to clean them. We use many types of duct brushes and we have special tools for accessing the inside of vents that would be inaccessible to other companies. We have a reputation for doing impossible jobs that are too tough for those "other guys" to do.
For smaller jobs, normally we hook up a very large vacuum (12 inches in diameter) to a main duct out, then seal off all vents except one. All the suction goes in through one vent. Then we tape off vents and use a spinning brush on a cable (called a duct auger) inside the vent to clean it thoroughly. Our truck-mounted vacuums create tremendous suction. The spinning brush inside the vent cleans off all the dust while the vacuum sucks it out of the vents, out of the building and into our vans.
In other circumstances, ductwork is more complex and other techniques are used. Sometimes hand vacuuming of the ductwork is needed. If necessary, we have special tools driven by a compressor, such as air whips to go in the ductwork and knock loose all the dirt. One such tool is a skipper ball — a ball on the end of an air hose. The ball has holes in it, and it goes down the duct like a jet, then it is pulled back and all the dirt is blown back to the hi-powered vacuum. Such tools enable us to clean previously inaccessible areas, which may never have been cleaned since the vent was installed. We are very good at going around corners! Duct augers and skipper balls can be used inside plastic-lined flexible ductwork, and will clean it without damaging it. In some cases, we even cut holes in ductwork and send in a man to clean it with a hand vacuum (on commercial jobs this is very common). It takes time and the right equipment to clean vents thoroughly and completely from the inside; in other words to do it right.
Inside ductwork there is sometimes fiberglass insulation. We use a special coating that seals it off and keeps it from blowing out of the vents.
Of course we let our customers know any time we find any mold in the ductwork. If there's mold, there's a reason. We let you know and we can handle it for you if found. Just cleaning mold off of the vents does not get rid of it. If there's any evidence of any mold in the plastic or metal ductwork, an EPA registered sanitizer should be applied. (The sanitizer used is the only one allowed by the EPA for such use, and is approved for indoor use.)
If your ductwork needs a fan repaired or replaced, we will let you know. We can do the fan repair or replacement work for you, if needed.
Click to see a full list of the services we can provide.
Click to see a list of contractor references you can contact.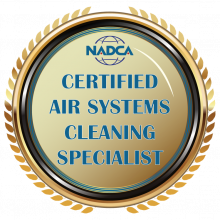 We meet the training requirements of and are certified by the National Air Duct Cleaners Association (NADCA). All our technicians have extensive, practical on-the-job training and operate under experienced foremen. The stress when we train our staff is on getting the ducts completely clean, and keeping the customers happy. Our technicians are trained in all types of air duct cleaning tools. They know what the end product is and how to think their way through all problems to the completion of the project. Sometimes they will invent a tool to clean a tough spot that's not reachable any other way. They are trained at troubleshooting and solving "unsolvable" problems.
Professional Duct Cleaning Company always does a good job, and we always stand behind our work.
Call us for an on-site inspection and an exact estimate. Commercial pricing varies widely so an on-site evaluation is always needed before we can give a price.
Of course we are licensed and bonded contractors, California License #984738.

Contractor References:
Celestial Air Conditioning, Inc.
(recent Northrup Grumman work)
20630 Leapwood Ave, Suite A
Carson, CA 90746
Tel: (310) 523-3861
Fax: (310) 639-2495
Email: celesthvac@aol.com
Bill Wong

Integrated Mechanical Systems
(recent LAUSD work)
2390 Bateman Ave.
Irwindale, CA 91010
Tel: (626) 446-1854
Fax: (626) 446-1855
Greg Guizado

All-Star Air Systems
10432 Cook Circle
Huntington Beach, CA 92646
Tel:(714)724-3547
Fax: (714) 849-1229
Email: allstarairsystems@gmail.com
Jack Dresser

Beta Investments & Contracts
1613-A E. Glenoaks Blvd.
Glendale, CA 91206
Tel (818) 241-6774
Fax: (818) 241-1665
betacontracts@yahoo.com
Haro Bezdikian

Delmac Construction
4050 Verdugo Blvd.
Los Angeles, CA 90065
(818) 543-7109
Andy Berthold

Aspen Builders, Inc.
Ontario Business Center
603 S. Milliken Ave Ste E
Ontario, CA 91761
Tel: (909) 937-6498
Fax: (909) 937-6829
Email: art@aspenbuild.com
Art Vallejo

Mold Masters, Inc.
2513 Colorado Blvd.
Los Angeles, CA 90041
Tel: (323) 999-2599
Fax: (323) 395-0288
Email: moldmasters03@yahoo.com
Austin Reid

Whitney Construction
10168 Artesia Place
Bellflower, CA 90706-6729
Tel: (562) 920-3600
Cell: (562) 318-4297
Fax: (562) 920-3631
Email: rjlara@aol.com
Bob Lara

Westland Heating & Air Conditioning, Inc.
603 South Milliken Avenue, Unit F
Ontario, CA 91761
Tel: (909) 605-1013
Fax: (909) 605-1052
Travis Lee

Fredrick Towers, Inc.
7055 Foothill Blvd
Tujunga, CA 91042
(818)-951-3552
Vigan Erik Sondergaard

Celco Construction
16341 Old Valley Blvd.
La Puente, CA 91744
Tel: (626) 392-7772
Fax: (626) 968-2839
Email: general0923@yahoo.com
Bianca Garcia

Athena Engineering, Inc.
456 East Foothill Blvd.
San Dimas, CA 91773
(909) 599-0947
Erik Sondergaard

N & W Construction
18340 Ventura Blvd., Ste. 230
Tarzana, CA 91356
(818) 705-1737
Ken Lacey

Houck Construction
1531 Pontius Ave.
Los Angeles, CA 90025
(310) 476-5169

Bryan Exhaust Service, Inc.
2808 Naomi St.
Burbank, CA 91505
(818) 841-9957
Matt Bryan

Woodcliff Corporation
1849 Sawtelle Blvd., Suite 610
Los Angeles, CA 90025
Tel: (310) 312-1400
Fax: (310) 312-1403
Email: allan@woodcliff.net
Allan

PR Construction
5555 Melrose Ave
Hollywood, CA 91301
Phone: 714-321-8794
Email: Btessier@prconstruction.net
Brandon

Jamik Construction & Management
1330 East 223rd St. Unit 524
Carson, CA 90745
Tel: (310) 329-4805
Fax: (310) 549-1199
Eric Christensen

Weibe Heating & A/C
5257 Victory Blvd., #207
Pacific Palisades, CA 90272
(310) 202-2388
Jim

RV Refrigeration & Heating
343 W. Cypress St.
Glendale, CA 91204
(818) 243-2525
Ray Parsekian

GTK Heating & A/C
13310 Oxnard St.
Van Nuys, CA 91401
(818) 404-1328
George

Infinity Climate Control
1158 Las Pulgas Rd.
Pacific Palisades, CA 90272
(310) 925-2525

Churchill's Heating & Air Conditioning, Inc.
2424 Poli Street
Ventura, CA 93003
Tel: (805) 652-1120
Fax: (805) 652-1171
Email: brandon@Churchillshvac.com
Brandon

See Also: our Industrial References