Professional Duct Cleaning Co.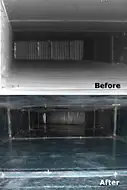 We are a full service air duct cleaning company servicing the entire Greater Los Angeles area. We've been in business for 25+ years and have much experience cleaning large commercial air ducts, as well as residential air ducts. We guarantee all our work and we are bonded, insured and licensed with the State of California. We take on jobs that others can't figure out how to clean. The toughest, most impossible cleaning jobs are our specialty. And we give FAST SERVICE!
Our Motto: "Do a good job. Treat others with courtesy."
Since opening in 1993, we have completed many thousands of industrial and residential cleaning jobs:
We have the professional experience—we do the job right!